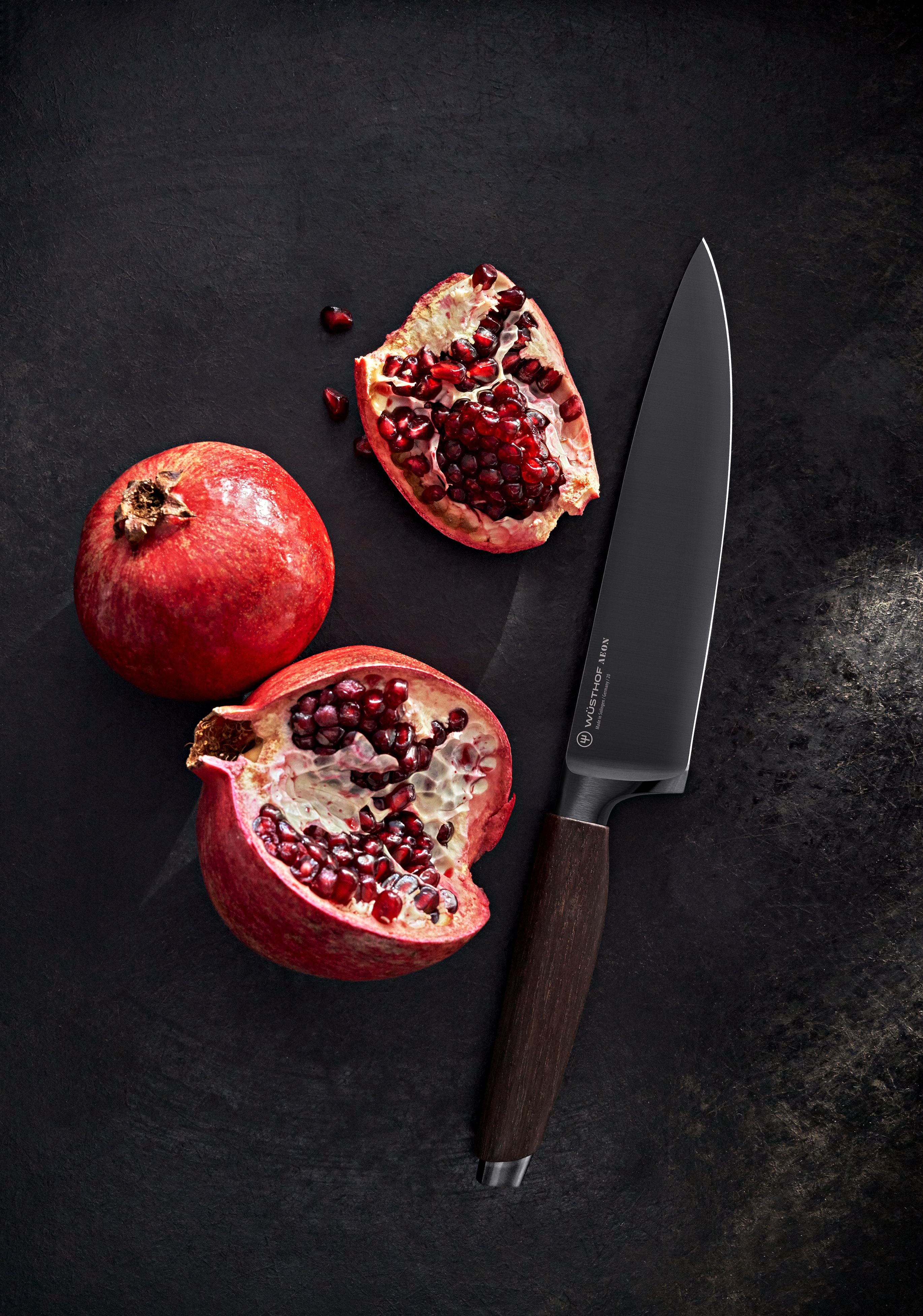 As Zuberr is a food and knife enthusiast, he decided to drift and sell the best knife brands under the trading name Markman. Most of the professional knives that he imports are from Europe, that is Germany, Spain, Portugal and France. He has recently been importing famous brand knives from Japan namely Zanmai, Hokiyama, and Kawamuro. He believes that these Japanese knives are a class above as Japan has top quality steel, and they are the best in the market. Therefore, he aims to educate the Mauritian population on the importance of having a good professional knife that brings out the best cut in ingredients. He admits that once someone has used a professional knife, he will never want to go back to regular knives. A person can even begin to love cooking just by using the right knives.
Using a sharpened knife is very important in the kitchen as it gives one more control over consistent cuts, thus making it safer. A person should be able to handle the ingredients used in a dish with care and finesse. One needs to cut ingredients like meat, fish, and vegetables effortlessly to bring delicacy and quality to a dish. Having a sharp professional knife also allow one to work with speed and intricacy in the kitchen. Hence, Markman's knives are a perfect addition to one's kitchen. A Markman's knife will not only bring flavour and finesse to your dish, but their knives are also durable as the sharpness of their blade last longer than ordinary knives.
The director of Markman went through many difficulties to share his passion for knives with others. The lack of knowledge of Mauritians about knives is what he is trying to efface by reeducating them about the importance and uses of knives. Before the pandemic, most of his clients were chefs and hotels. Unfortunately, as hotels are not working, he changed the types of knives that he imports to appeal to a larger pool of customers who can use them in their households. He then hopes to educate them more about using various types of knives and their different functions.
Finally, he believes that the standard of living of Mauritians have risen, and there are demands for better quality products. His advice to all new entrepreneurs on the market is to know your product and be sincere with your customers.
You can find Markman's store in Camp Yoloff, Port Louis, and Markman on Facebook. Markman will be present during the Hungrynation Food Festival, at L'embrasure, Le Petit Morne, on the 27th of March, where there will be a knife exhibition. Zuberr is excited about the event and hopes to see you there in numbers.
Book your ticket now: https://ticketshop.mu/en/event/hungrynation-food-festival