Cafe Lux* has over the years built itself into a brand that is synonymous with coffee in Mauritius. A brainchild of the LUX* Resorts and Hotels, this famous cafe came into fruition on the 11th of May 2015.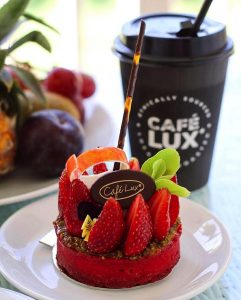 Today, the company has expanded into 5 branches with a presence in; Port Louis, Moka Quatre Bornes and Flic en Flac. The cafe offers a plethora of beverages ranging from Nitrogen Infused Tea and Cold Dripp (Coffee infused in Ice and Water) to the more widely known Latte and Espresso. The ambience is also conducive for productivity as the combination of the coffee, quality service and calm atmosphere create a soothing effect.
It seems that its wide group of customers echo my sentiment that this coffee shop is creme de la creme as Cafe LUX* this year received the nomination for the Best Cafe at the Mauritius Restaurant Awards.
The voting is currently live at www.mauritiusrestaurantawards.com, so why not pay cafe LUX*a visit and try their menu, you might find yourself voting for them in support of their nomination.
For Cafe Lux*:
BAGATELLE MALL
📞+230 468 8307
LA CiTY TRIANON
📞+230 464 4738
CAUDAN WATERFRONT
📞+230 214 1025
SSR INTERNATIONAL AIRPORT
📞+230 5256 9847
CASCAVELLE SHOPPING VILLAGE
📞+230 452 4500
RUISSEAU CREOLE
📞+230 5258 0120