The Ethiopian Human Rights Commission's investigation was deployed earlier this year, as there was suspicion of human rights violation in Aksum, following the ongoing war. Based on survivors and witnesses' testimonies, it was reported that residents and visitors from other places in Tigray were shot on the streets of Aksum.
The conflict started at the beginning of November 2020 when TPLF refused to join Ethiopian's Prime Minister, Abiy Ahmed, the new Prosperity Party. The members of TPLF (Tigray People's Liberation Front) declared that Abiy Ahmed as an illegitimate ruler as he postponed the August 2020 general elections, and he has not fixed a date yet, due to the COVID-19 pandemic. The chairman of TPLF, Debretsion Gebremichael, went against the government and held the regional elections in Tigray in September 2020, which the government deemed illegal. The ENDF made a coalition with Eritrean forces, and on the 4th of November, they launched their attack on Tigray and captured its capital Mekelle.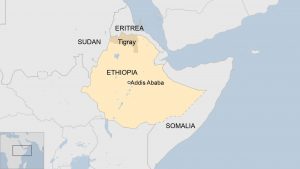 Witnesses said that the killings started in retaliation to an attack on Eritrean soldiers a few days before the massacre. On the 19th of November, the Eritrean Forces who are fighting alongside the ENDF (Ethiopian National Defense Forces) shelled the civilians of Aksum for several hours, and after which they captured the city which was ruled by the TPLF. After the attack, pro-TPLF fighters assaulted some Eritrean soldiers, and in retribution, the Eritrean soldiers shot more than 100 unarmed civilian men and boys from the evening of the 28th of November till the next day.
During the conflict, many atrocities occurred on both sides in the different cities of Tigray. Civilians are being targeted, and lots of lives are getting lost. As reported by UNICEF, school and health centres have been vandalised, public and private properties have been looted, extrajudicial killings are happening, and there is sexual violence occurring against women and children. Ten of thousands of Ethiopians are fleeing to neighbouring countries and are being displaced due to the conflict. Moreover, as the fighting continues between government troops and the regional forces of the Tigray People's Liberation Front, Tigray is in urgent need of humanitarian aids, and the displaced people, especially children, are at risk of disease and malnourishment.
Sources:
UN News, 2021. Ethiopia: 'Incomplete but troubling picture' reveals impact of Tigray crisis on children
Human Rights Watch, 2021. Ethiopia: Eritrean Forces Massacre Tigray Civilians
Amnesty International, 2021. Ethiopia: Eritrean troops' massacre of hundreds of Axum civilians may amount to crime against humanity